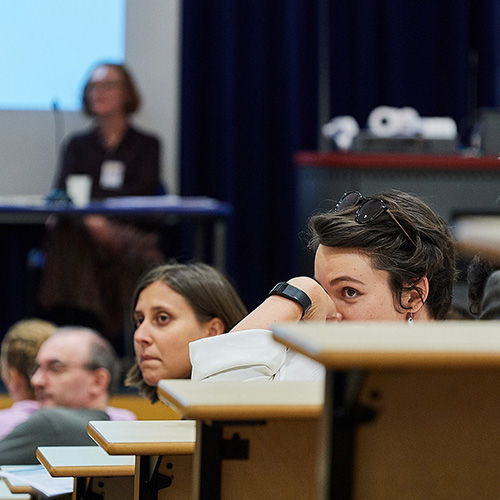 Students at the Centre for Brain and Cognitive Development are enrolled in a number of degree programmes offered by the Department of Psychological Sciences at Birkbeck College.
If you would like to find out more about the department, why not come to one of our talks and seminars series, which are open to anyone.
PhD Programme:
The CBCD is an internationally recognised centre for PhD training. Interested students should contact potential supervisors in advance of the Birkbeck application deadline (generally late February). International students should contact potential supervisors as soon as possible since many fellowship schemes have very early submission deadlines (e.g., in the late summer or autumn of the year before commencement of the PhD programme).
http://www.bbk.ac.uk/psychology/study-here
For funding opportunities click here
Specific Funded PhD Opportunities:
MSc (Master's) Programmes:
The CBCD is home to students from several Master's-level degree programmes at Birkbeck, all of which have somewhat different emphases and course requirements. We are excited to promote a new course, closely linked to our work at CBCD: Birkbeck MSc/MA Brain and Cognitive Development
Our MSc/MA in Brain and Cognitive Development is designed to give you an understanding of infant and child development through the study of the impact of the family, communities and other social networks. You will explore the interaction of biology and social factors in the context of both typical and neurodivergent pathways. The programme is linked to the Centre for Brain and Cognitive Development, and you will work with staff and students, in a friendly and intellectually stimulating world-class research centre. 
Take courses across all aspects of infant and child development, including genetics, neuroscience, and global research
Be a part of the Centre for Brain and Cognitive Development, collaborating with world-class researchers in our cutting-edge Baby and Toddler Labs
Design, run, and analyse your own research project 
Attend weekly seminars led by researchers from around the world 
Explore opportunities to present your work at local and international conferences
Take advantage of career advice from our PhD students and academic staff
Learn more and apply here: https://www.bbk.ac.uk/courses/postgraduate/brain-and-cognitive-developm… 
Undergraduate Study:
Some very motivated Birkbeck undergraduate students have done their final-year project (e.g., senior thesis) with CBCD supervisors. For more information about undergraduate study, please see the following link:
https://www.bbk.ac.uk/courses/undergraduate/subject/psychology