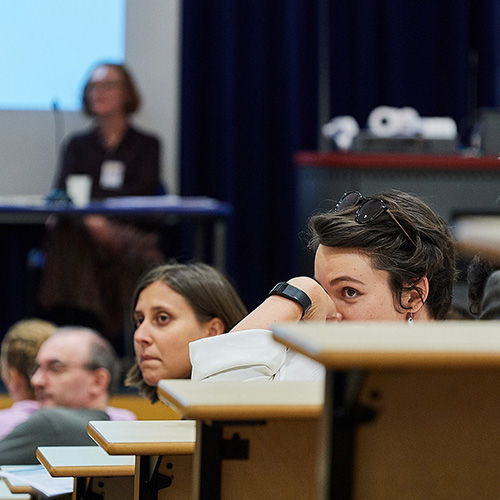 Students at the Centre for Brain and Cognitive Development are enrolled in a number of degree programmes offered by the Department of Psychological Sciences at Birkbeck College.
If you would like to find out more about the department, why not come to one of our talks and seminars series, which are open to anyone.
PhD programme:
The CBCD is an internationally recognised centre for PhD training. Interested students should contact potential supervisors in advance of the Birkbeck application deadline (generally late February). International students should contact potential supervisors as soon as possible since many fellowship schemes have very early submission deadlines (e.g., in the late summer or autumn of the year before commencement of the PhD programme).
http://www.bbk.ac.uk/psychology/study-here
For funding opportunities click here
Specific Funded PhD Opportunities:
MSc (Master's) programmes:
The CBCD is home to students from several Master's-level degree programmes at Birkbeck, all of which have somewhat different emphases and course requirements. Following is a list of relevant programmes (please note that course details may change):
1) The Birkbeck MA/MSc in Developmental Sciences:
http://www.bbk.ac.uk/study/pg/psychology/TMADEVSC.html
2) The Birkbeck MA/MSc in Cognitive Neuroscience and Neuropsychology:
http://www.bbk.ac.uk/study/pg/psychology/TMACGNEU.html
3) The Birkbeck MA/MSc in Cognition and Computation:
http://www.bbk.ac.uk/study/pg2013/psychology/TMACGCOM.html
4) The Birkbeck MSc in Psychological Research Methods:
http://www.bbk.ac.uk/study/pg/psychology/TMSPSRMT.html
5) Psychology (MSc): part-time conversion course:  
http://www.bbk.ac.uk/study/2017/postgraduate/programmes/TMSPSYCH_C/
6) The Birkbeck MA/MSc in Educational Neuroscience
http://www.bbk.ac.uk/study/pg/psychology/TMAEDNEU.html
7) Psychology (Postgraduate Diploma): part-time conversion course:
http://www.bbk.ac.uk/study/2017/postgraduate/programmes/TPDPSYCH_C/
8) Psychology (MRes)
http://www.bbk.ac.uk/study/2017/postgraduate/programmes/TMRPSYCH_C/
Undergraduate Study:
Some very motivated Birkbeck undergraduate students have done their final-year project (e.g., senior thesis) with CBCD supervisors.   For more information about undergraduate study, please see the following link:
http://www.bbk.ac.uk/study/2017/undergraduate/subject/psychology/